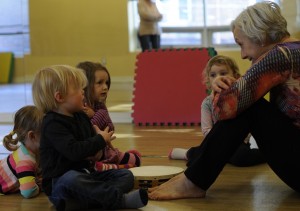 It has been my privilege and delight to be part of young children's discovery of music in the Toronto Beach/Leslieville areas for over 30 years. Wow… time flies when you're having fun! And now, some of my earliest students are returning with their own children, as are some of their nannies. I guess that's what happens when you've shared so many wonder-full moments together. 🙂
I started as a folk singer in the Maritimes, and after graduating with a scholarship from the Musical Theatre program at Sheridan College in Oakville, I performed in almost 100 theatres across Canada, incl. the Royal Alex, Young People's Theatre, the Dream in High Park, the National Arts Centre, and the Charlottetown Festival, as well as nightclubs and TV.
After I had my children, I was interested in finding a way I could be around for them and still put my musical talents to use outside of our home. A big thank you to Moyra Walker and the teachers at the Young Children's Creative Movement & Music classes, and especially to Doug Goodkin, who started me on the path to introducing very young children to music in a way that is organic and full of joy.
I was instinctively drawn to the "Orff" approach, and have attained the level of Master teacher. Along the way, I also studied Kodaly and Dalcroze pedagogy and graduated from the Royal Conservatory's "Music for Young Children" program. I taught music for them with "Learning through the Arts", as well as music and creative movement programs for Kew Park Montessori, Downtown Alternative School, Margaret Fletcher Daycare, and Earl Beatty, Gledhill, Chine Drive, and Williamson Road Public Schools.
These days, when I'm not busy singing & dancing, or playing ukulele, guitar, recorder or kalimba, I enjoy studying percussion with Altaf Bwana Moto at Soul Drums.